Welsh pubs, restaurants and cafes will be banned from serving alcohol from Friday and will be unable to open to customers beyond 18:00 GMT.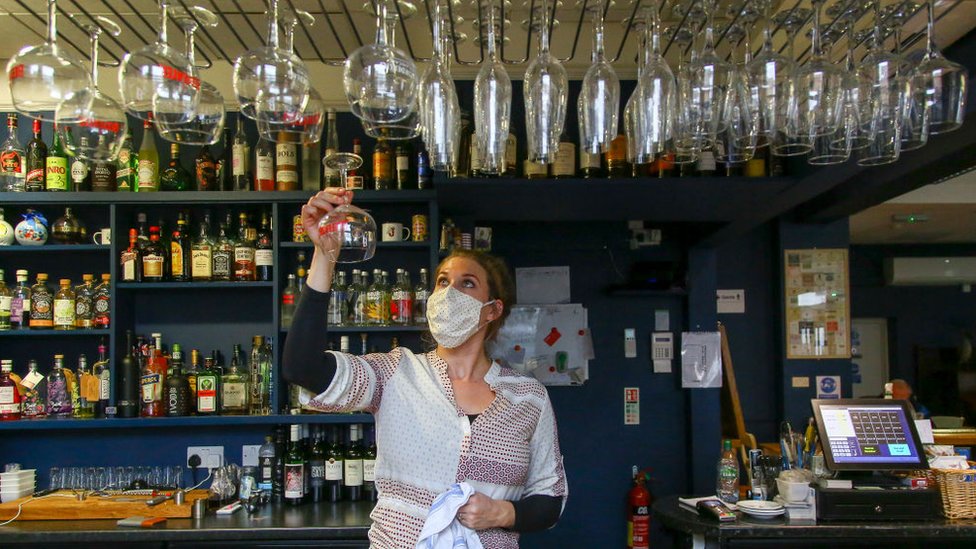 First Minister Mark Drakeford announced the new rules to tackle a rise in coronavirus cases.
Indoor entertainment and visitor attractions, including cinemas, museums and galleries, will also have to shut.
Mr Drakeford said without changes there could be between 1,000 and 1,700 preventable deaths over the winter.
Businesses will be allowed to provide a takeaway service after 18:00 for food or non-alcoholic drinks.
Traders described the news as a "major blow" to indoor entertainment and hospitality firms.
The Conservative leader in the Senedd, Paul Davies, said the national approach from the Welsh Government was unfair on areas with low Covid rates.
Plaid Cymru's Rhun ap Iorwerth said the Welsh Government should provide support to allow the hospitality and tourism industries to "hibernate" for the winter.
The first minister said firms hit by the restrictions will be offered £340m in support – he claimed it was "the most generous package of financial assistance anywhere in the UK".
Mr Drakeford said: "I am very grateful for everything the sector has done.
"I know these new restrictions will be difficult, coming as they do at the one of the busiest times of the year for the sector.
"Unfortunately, we continue to face a virus which is moving incredibly quickly across Wales and a virus that will exploit every opportunity when we spend time with one another."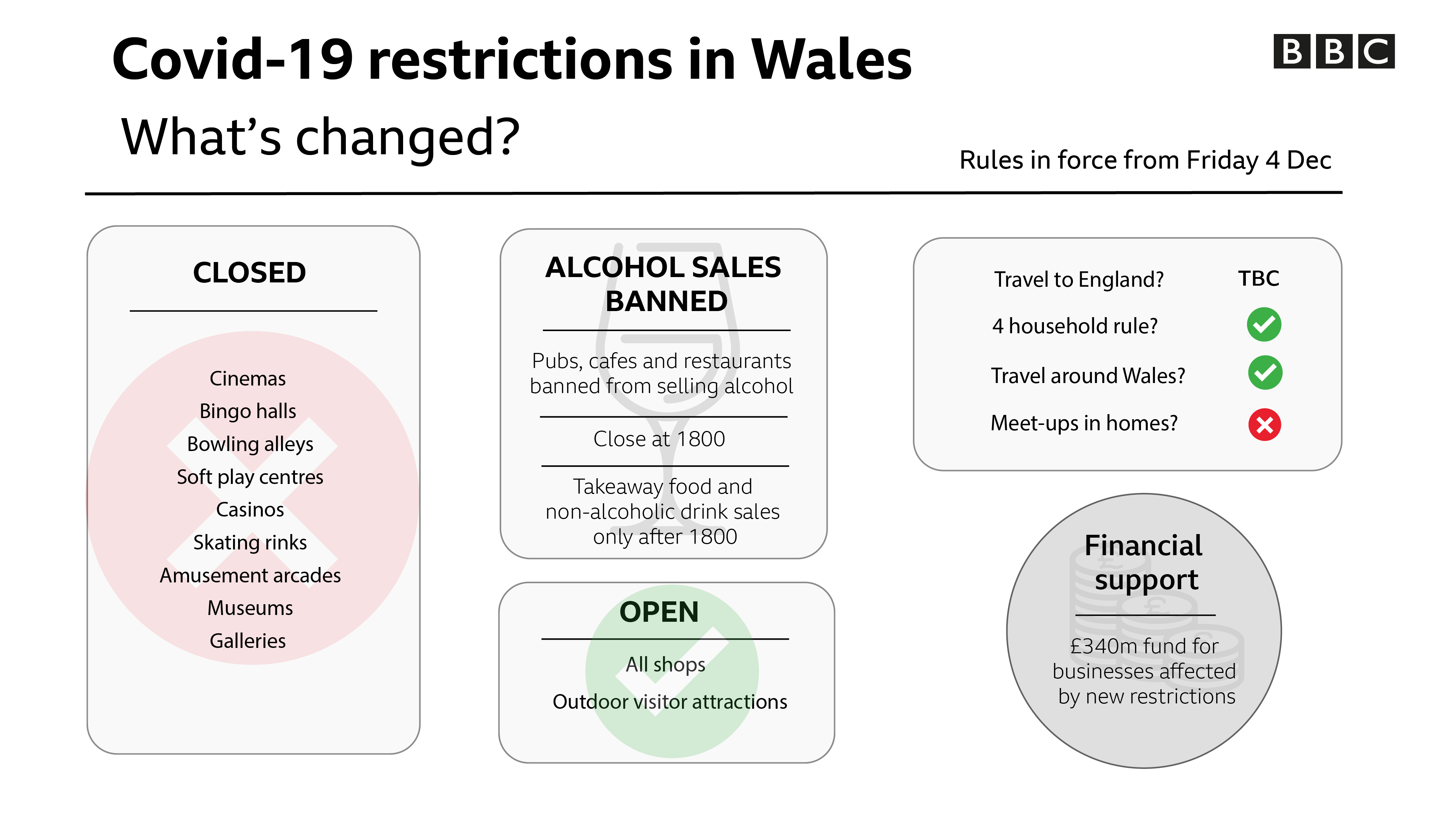 The restrictions come into effect at 18:00 on Friday, and are similar to the restrictions on hospitality within level three areas in Scotland.
The decision will be reviewed on 17 December. As well as cinemas, bingo halls, bowling alleys, soft play centres, casinos, skating rinks and amusement arcades will have to close.
Meanwhile current restrictions on travel into England, implemented while a lockdown is in place over the border, is being reviewed.
The first minister said he will make a further announcement later this week.
What is the reaction?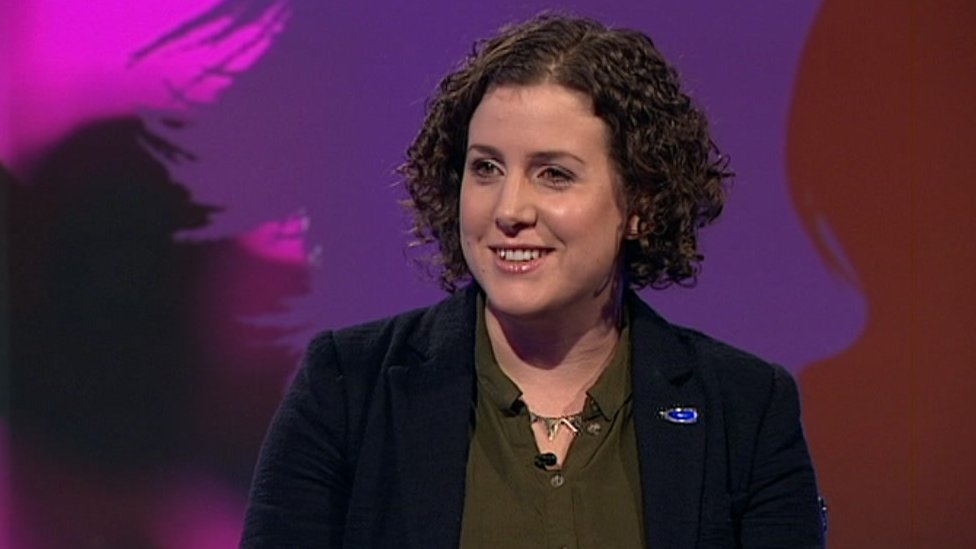 Ben Francis, of the Federation of Small Business, said: "There is no getting away from the fact that today's announcement will come as a devastating blow to those indoor entertainment and hospitality firms that have fought tooth and nail to protect jobs, remain viable and provide a safe environment for their staff and customers this year."
He said it was "incredibly important" that promised funding "can be rolled out as a matter of urgency".
Cardiff restaurateur and pub owner Cerys Furlong said not being able to serve alcohol and early closing means that trading will be a "long way from viable for the majority of the sector, particularly in this Christmas period, which is crucial to the success or otherwise of most businesses in hospitality".
"However, we welcome the support funding from Welsh Government which we understand is intended to reflect more closely the scale of the challenges we face."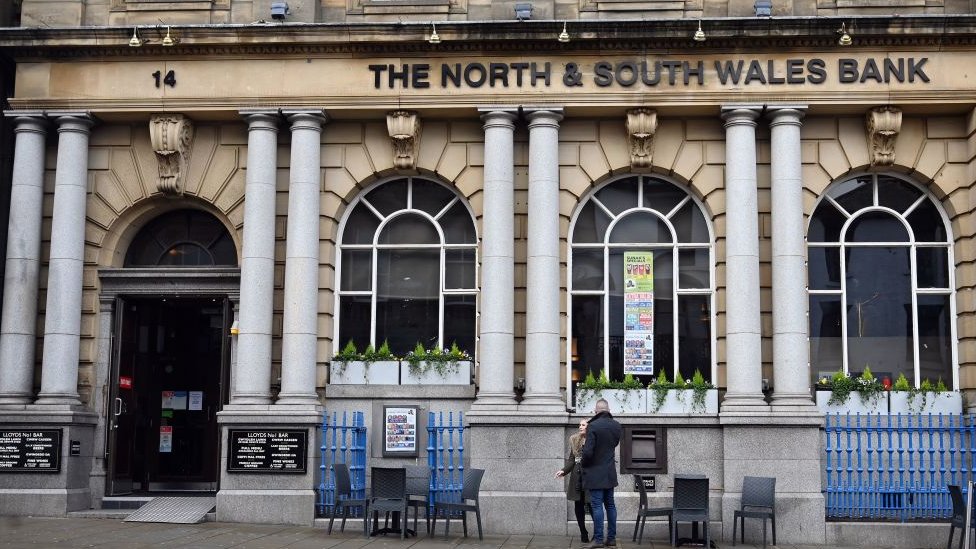 Hospitality businesses were allowed to open after the firebreak ended earlier in November.
The first minister said there is evidence for the need of the new restrictions.
"When people meet together in a hospitality setting, you're not just having a glancing encounter with somebody as you do if you're going round a supermarket," he said.
"You're sitting together with people for a significant period of time."
Mr Drakeford said scientific and medical experts had warned that by 12 January, the total number of people with Covid in hospital could rise to 2,200 "unless we respond now".
The case rate has risen from 187 per 100,000 people over seven days on Friday, to 210 cases per 100,000 people.
What business support will be available?
The £160m "Restrictions Business Fund" will offer firms in the hospitality, tourism and leisure sectors that pay non-domestic rates (NDR) grants of up to £5,000.
The Welsh Government estimated around 60,000 businesses with a rateable value of under £150,000 would receive the support.
A "sector-specific" £180m Economic Resilience Fund would be made available for hospitality, tourism and leisure businesses.
The Welsh Government said small and medium sized businesses meeting the criteria could receive up to £100,000, while larger firms could receive up to a maximum of £150,000.