More than 1,500 lorries are stuck in Kent waiting to leave the UK as politicians thrash out a plan to reopen France's border to trade and travel.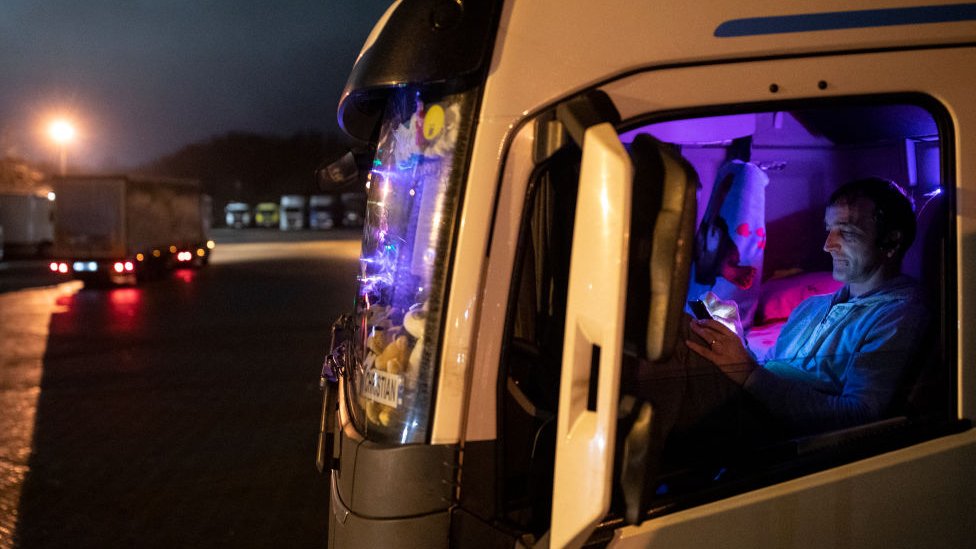 France shut the border for 48 hours on Sunday over the UK's new virus variant.
Lorry drivers spent a second night sleeping in their vehicles, with Home Secretary Priti Patel saying on Tuesday there were 650 lorries stacked up on the M20 and 870 at a lorry park.
More than 40 countries have now banned UK arrivals.
Almost every EU member state has now stopped travel from the UK amid fears over the virus mutation, and the EU is talking about how to form a united response.
The UK's top scientist Sir Patrick Vallance has warned the new variant is now "everywhere" in the country – and more areas may need to enter tier four to curb its spread.
He predicted there would be a spike in cases after Christmas, and restrictions might "need to be increased in some places".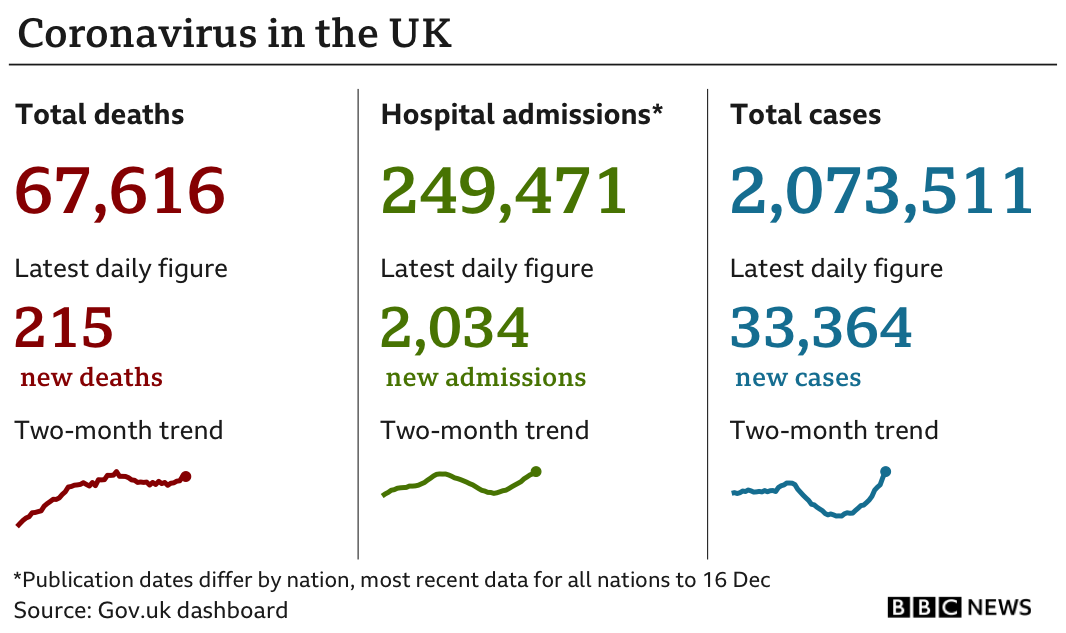 Dozens of countries, including Spain, France and India, have banned UK flights after parts of England, including London, entered tough tier four – "stay at home" – restrictions.
Around 17 million people in England are now living under tier four. Wales has entered a new national lockdown, Northern Ireland will begin a national lockdown on Boxing Day, and Scotland has tightened rules and will enter its top level of lockdown measures from Boxing Day.
Home Secretary Priti Patel said discussions were under way between the UK and France "to find a resolution" to France's border closure.
"You'll hear later on today in terms of developments and updates," she told BBC Breakfast.
France's Europe minister Clément Beaune said any plans will be agreed by Prime Minister Boris Johnson and French President Emmanuel Macron and come into effect from Wednesday.
Ms Patel said potentially testing lorry drivers at ports was "part of the discussions", and added: "Getting those tests up and running can happen relatively quickly."
EU member states are understood to be pressing for UK arrivals to be tested for the virus before entering their countries.
It comes as:
Supermarkets seek to reassure shoppers Christmas supplies are plentiful amid reports of bare shelves and long queues
Northern Ireland's Executive votes against introducing a travel ban between NI and England, Scotland and Wales
Royal Mail said it has temporarily suspended all mail services to Europe, with the exception of the Republic of Ireland, due to travel restrictions.
The border disruption also affected passenger services – with many air, rail and sea services cancelled between the UK and France, as well as other countries that have put restrictions in place.
Rail operator Eurotunnel said it hoped passengers would be able to travel between the UK and France from Wednesday or Thursday, if a solution is agreed.
British Airways said it would operate "a reduced and dynamic schedule" amid the uncertainty.
Meanwhile, the World Health Organization said there was "zero evidence at this point" that the new variant of coronavirus discovered in the UK causes "any increase in severity associated with" Covid-19.
It urged the public to continue with measures known to reduce the spread: hand washing, social distancing, and wearing face coverings.
At the scene in Dover: BBC reporter Simon Jones
Last night the government said there were 945 lorries parked up on the M20 motorway.
But driving around Dover this morning, there are HGVs everywhere – on the side of the road, in lay bys and in car parks.
That means the number of hauliers caught up in the chaos is likely to be far higher.
Lorry drivers are used to sitting in delays, and will often sleep in their cabs. But for those I've spoken to this morning, it's the uncertainty that is the most difficult thing.
They don't know how long this will go on for; they don't know whether they will get home for Christmas.
Even if France does reopen the border today, this backlog will take some time to shift, especially if drivers have to be tested before crossing the Channel.
The Channel is a vital trade route, with about 10,000 lorries a day travelling between Dover and Calais at Christmas, largely bringing in the freshest produce.
Lorry driver Greg Mazurek from Poland, who is in Dover and has been in his cab for two days, told the BBC on Tuesday morning: "What can I say? I feel bad, really bad, terrible in fact. We know nothing, we don't know if we can get home [to] our families for Christmas.
"If they implement testing here, maybe it will be a good idea. But we need to start now, to get there [by] Christmas Eve."
According to the head of the Road Haulage Association, lorry drivers waiting to cross the Channel have been offered just a single cereal bar each by Kent County Council.
On Monday evening, Highways England said the M20 was closed and would not reopen until 08:00 GMT on Tuesday.
It said many vehicles would be held at Manston Airport as an earlier "stacking" operation on the motorway was wound down.
Ms Patel said there were welfare facilities and support available for hauliers at Manston.
About 1,550 lorries crossed into the UK through the port on Monday but retailers warned of "serious disruption" without a resolution, with Tesco and Sainsbury's saying some fresh produce such as lettuce and citrus fruits could run short.
But Mr Johnson maintained delays only affected a very small percentage of food entering the UK and supermarket supply chains were "strong and robust".
Labour said spare capacity in the coronavirus testing system should be used to help deal with the situation at British ports.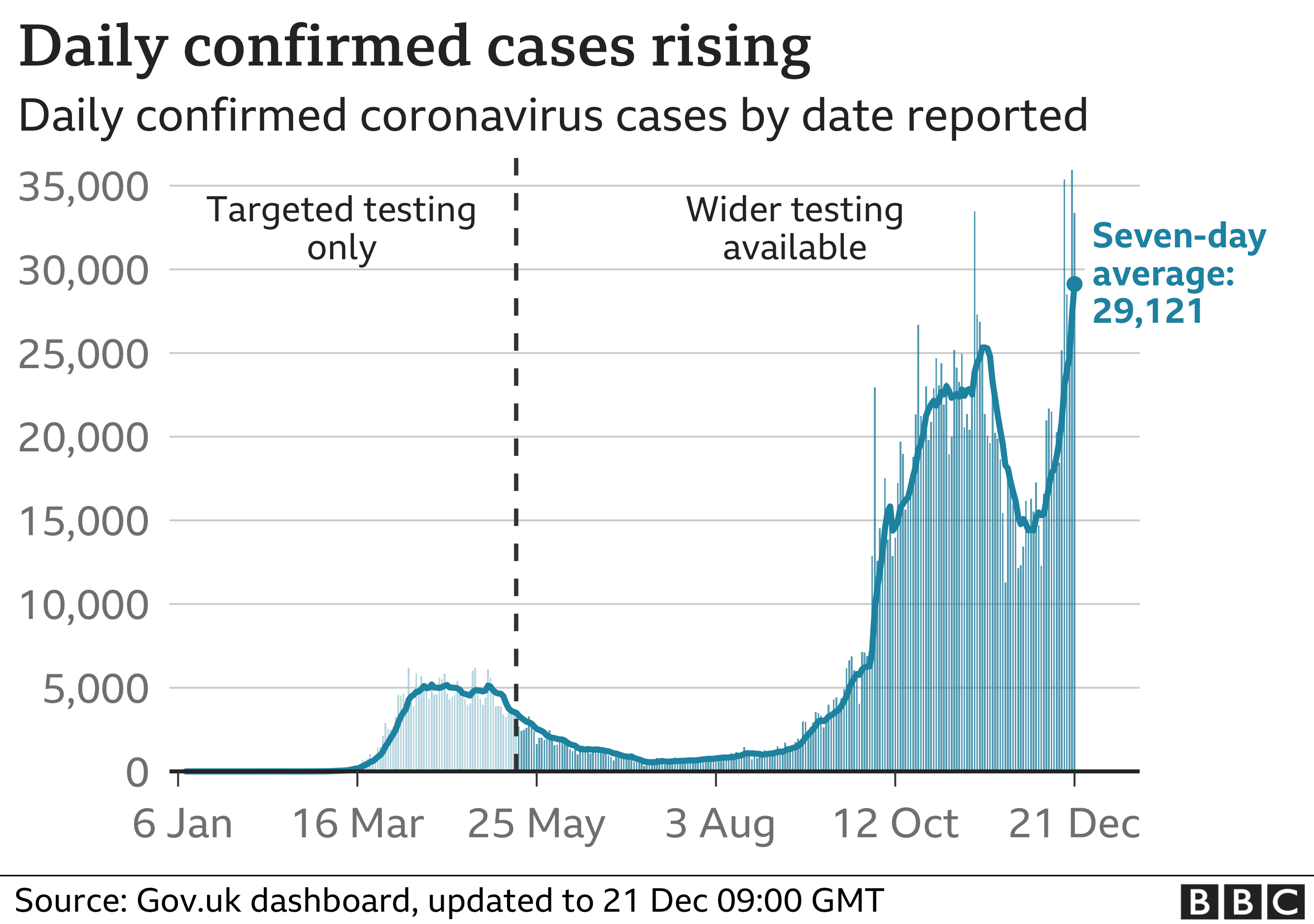 The UK's chief scientific adviser told the Downing Street briefing that further restrictions are likely to be introduced in more areas of England to control the new variant of Covid-19.
Sir Patrick Vallance said measures could "need to be increased in some places, in due course, not reduced".
London and large swathes of south-east England were placed in the highest tier four restrictions over the weekend.
Sir Patrick also predicted there would be a spike in cases after an "inevitable period of mixing" over Christmas.
Asked why tougher measures were not in place across the country following the introduction of the tier 4 level, he added: "The evidence on this virus is that it spreads easily. It's more transmissible. We absolutely need to make sure we have the right level of restrictions in place."
On Monday a further 33,364 positive coronavirus tests were recorded in the UK. There were also a further 215 deaths within 28 days of testing positive, bringing the nation's total to 67,616.