Time is running out for Scots food exporters to save Christmas trade as lorries remain stuck in Kent unable to enter Europe, Nicola Sturgeon has warned.
Industry bodies say the situation is "deteriorating".
Scotland Food and Drink said pre-Christmas sales had been "ruined" for shellfish firms and called on the UK government to reach an agreement.
Home Secretary Priti Patel said discussions with France were ongoing.
She said developments and updates could be expected on Tuesday.
About 1,500 lorries are still stuck in Kent waiting to leave the UK as British and French officials try to agree a way to allow the flow of goods to resume across the Channel.
France closed its borders on Sunday because of fears over the spread of a new, highly contagious variant of coronavirus found in south east England.
Millions of pounds worth of Scottish seafood is among the produce stuck in queues.
James Withers, chief executive at Scotland Food and Drink, warned that losing the Christmas trade could be a "fatal blow" for some businesses.
Mr Withers said: "Contrary to an upbeat assessment from the prime minister yesterday, the situation has been deteriorating with a growing backlog of lorries.
"For some of our shellfish exporters, the pre-Christmas sales have now been ruined. It looks like mission impossible to get products to the big markets in Spain which are held tomorrow.
"That is an irrecoverable loss of income and I fear about this being a fatal blow to some of the smaller businesses after the horrendous year they have already had."
'Millions lost'
Scottish government export figures released last week indicate France remains the single largest importer of Scottish food and drink products. Exports to France for the first nine months of 2020 are already down 11.3% on the same period the previous year.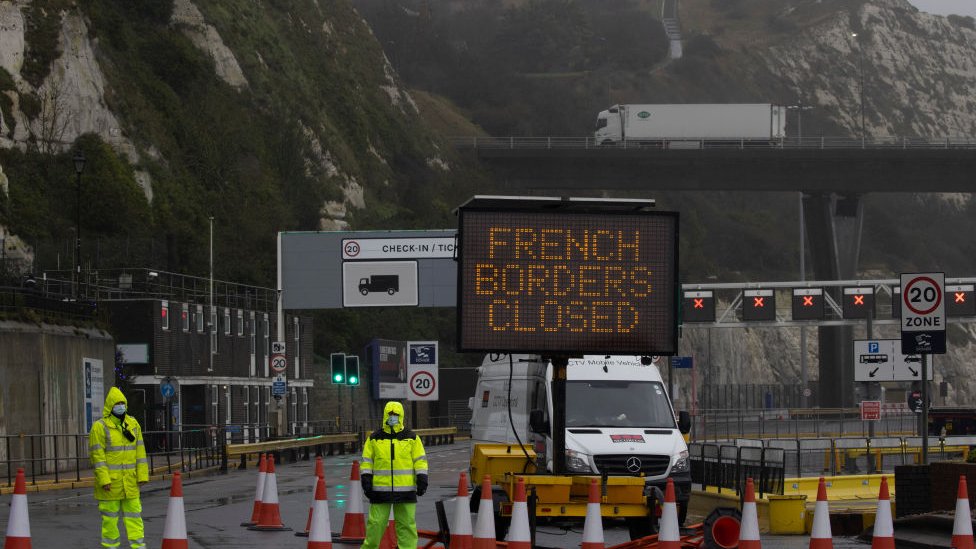 Donna Fordyce, chief executive of Seafood Scotland, agreed: "The window wherein companies would be able to salvage anything from the last couple of days is now, to all intents and purposes, closed for premium seafood, which has been perishing by the roadside since Sunday night.
"Millions has been lost, much of it by small companies that were depending on this trade for survival.
She said the situation turned thoughts to the end of the Brexit transition period.
She said: "The last 48 hours has given us a terrifying insight into what the situation could be come 1 January. While passage may not be formally blocked by then, there remains a "red tape blockade" which will likely have exactly the same impact as the last 48 hours. "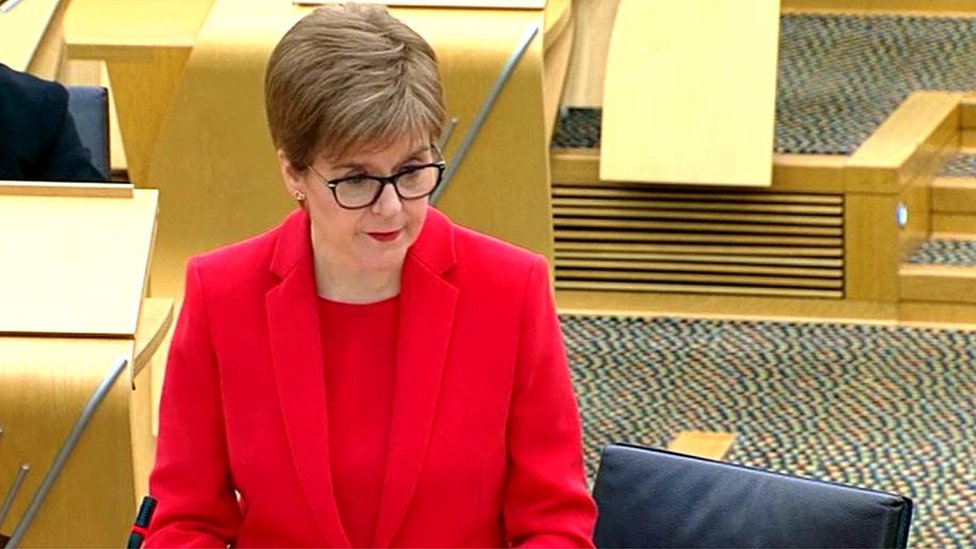 Updating MSPs at Holyrood on Tuesday, Nicola Sturgeon offered Scottish-based testing for hauliers in a bid to end the UK border freight blockage.
She said it was the peak time of year for exports for the Scottish seafood sector and that the Christmas export trade was almost certainly lost.
"That is devastating for our world-class seafood businesses and they do need and will get our support," she told MSPs. "We are liaising with the sector on financial support and I also raised the issue of compensation at Cobra yesterday."
She added that if a protocol was not reached on Tuesday the new year trade would be in jeopardy too.
The first minister said that, since any solution was likely to include mass the testing of freight drivers, the Scottish government's willingness to help would include providing testing facilities for the sector in Scotland.