Dublin Port has emerged as a major bottleneck for NI businesses trying to operate under new Brexit rules.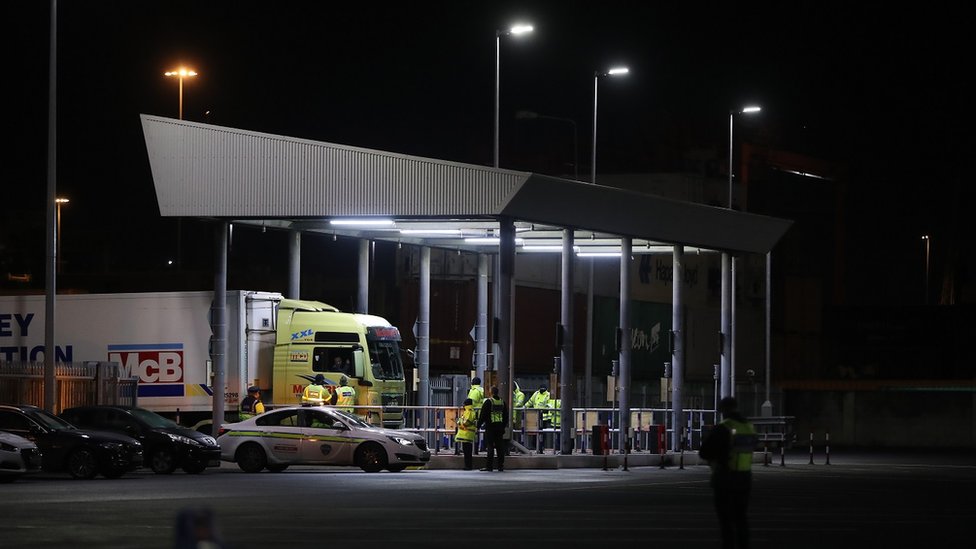 Around 20% of NI's trade goes through Dublin and haulage firms are reporting delays getting customs clearance for loads arriving from GB.
Freight companies in the Republic of Ireland have also reported difficulties.
The Irish customs authorities said part of the problem is businesses being unprepared for the new processes.
In a statement, the Irish Revenue Commissioners said they were surprised by "the extent to which [some businesses] hadn't really addressed the work that needed to be completed in the months and years leading up to 1 January".
They added that although they "fully recognise the challenge for business and the potential serious consequence", they have obligations "to ensure that the requirements of EU membership are fully observed and, more importantly, that we don't put the free movement of Irish goods within the wider EU market in jeopardy".
Some haulage firms have said that the Irish and UK customs systems are not integrating, making the declaration of goods complicated and error prone.
Seamus Leheny, from Logistics UK, said: "Dublin Port is currently a minefield for trucks arriving from GB.
"One Northern Ireland operator had two loads arrive on Tuesday night and only got released at 22:30 GMT on Thursday night
"For over 48 hours the drivers were left living in the vehicles with operators incurring costs by the hour."
Growing backlog
Meanwhile the Freight Transport Association Ireland (FTAI) has written to the Taoiseach (Irish Prime Minister) warning of a build up of problems.
It says new customs and food safety formalities are causing lorries to remain stranded at Dublin Port or stuck in depots in the UK.
The letter says there is a growing backlog of goods including car parts, furniture, clothing and food supplies sitting in depots because there are not enough customs agents to process the declarations correctly.
FTAI general manager Aidan Flynn told broadcaster RTÉ it was "unbelievable" that 30% of goods were being inspected, which he described as being "unsustainable".
The Irish Revenue Commissioners' head of Brexit Strategy, Laura Slattery, told the broadcaster: "Revenue were out last year clearly setting out what the preparation needed to be. Some businesses did that and some are experiencing a relatively seamless changeover."
In its statement, The Irish Revenue Commissioners also pointed out that the option of a phased implementation of the formalities required does not exist legally.
By John Campbell
NI Economics & Business Editor