The Irish government has reiterated its promise not to carry out checks on the NI border to manage the spread of Covid-19.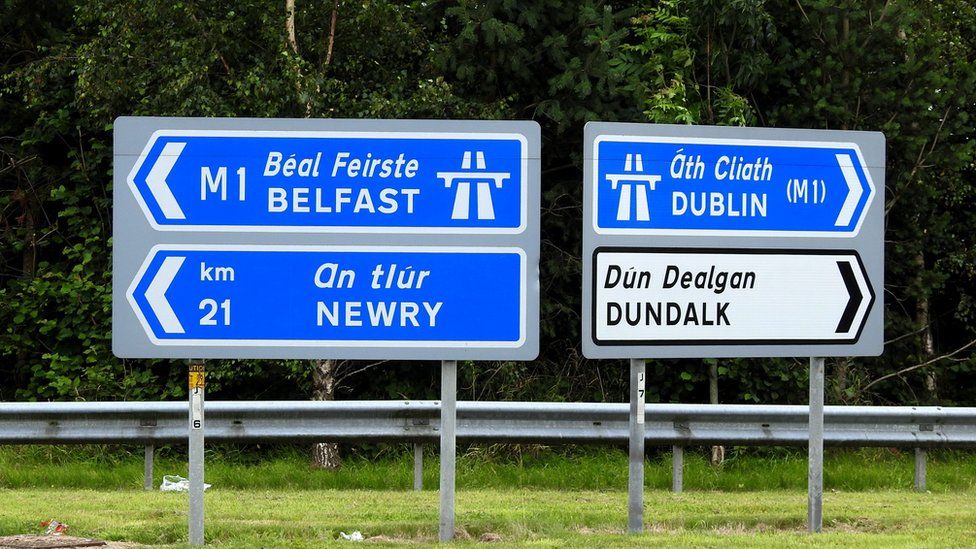 Irish Health Minister Stephen Donnelly told RTÉ News it had "never been on the table".
The Stormont Executive has been involved in discussions with Irish officials this week about the sharing of travel data.
Some NI ministers had raised concerns about a lack of co-operation.
Mr Donnelly said a "two-island strategy" was being explored to clarify "if there is merit to us closely aligning the border control measures for the UK and for Ireland".
He said he supported a "zero Covid strategy", but that it would not happen by the government sealing the border with NI.
On Tuesday the Republic of Ireland tightened its travel rules, which will affect passengers arriving who then travel on to Northern Ireland.
Existing Passenger Locator Form rules are to be amended to ensure NI-bound passengers complete the full form by providing a forwarding contact address.
Currently, people who arrive in the Republic and travel to Northern Ireland do not have to complete all sections of the Republic's Passenger Locator Forms, which are used to track and trace travellers.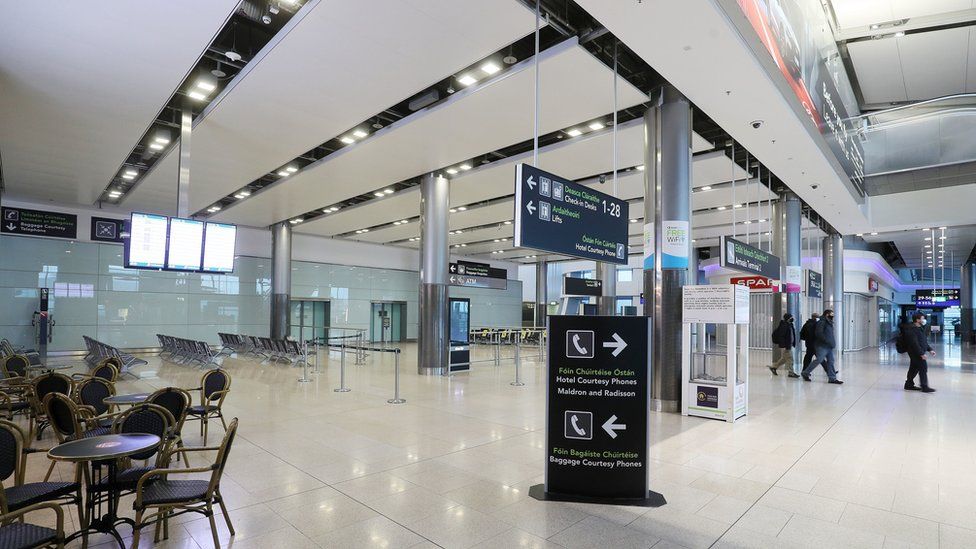 The changes were announced as Taoiseach (Irish Prime Minister) Micheál Martin outlined a series of stringent new measures affecting all overseas passengers arriving into the Republic of Ireland.
Quarantine hotels?
The plans include a "mandatory quarantine at a designated facility" for anyone arriving into Irish ports or airports without proof they have tested negative for Covid-19.
Meanwhile, Stormont ministers have been briefed on new plans by the UK government to place some passengers arriving in England into quarantine in hotels.
Boris Johnson said Cabinet Office Minister Michael Gove had chaired a four-nations call on Wednesday.
The first and deputy first ministers and Health Minister Robin Swann were among those who took part.
The prime minister said he hoped there could be close co-operation to implement quarantine plans to ensure "where possible" a UK-wide approach continues.
Mr Swann wrote to executive ministers earlier this week asking them to consider the option of "quarantine hotels", along with other proposals to tighten travel rules.
It is understood that issue will be raised again at Thursday's executive meeting.
In an attempt to curb the spread of new variants of coronavirus, people arriving into the Republic of Ireland from Brazil and South Africa will also be automatically required to quarantine at a designated facility.
In the coming weeks, the government also intends to make it a legal requirement for everyone who arrives in the state from overseas to quarantine in their own homes, hotels or other accommodation.
However, legislative changes will be needed in order to enforce quarantine for Irish and EU citizens as well as those from the European Economic Area.
Speaking in the Dáil (Irish Parliament) on Wednesday, Sinn Féin President Mary-Lou McDonald called for 14-day mandatory quarantining for all who arrive on the island – north and south.
She described the government's plans to continue the Republic of Ireland's lockdown until 5 March as half-measures and unenforceable, adding that "unnecessary international travel cannot be countenanced".
Mr Martin said his government and the Northern Ireland Executive were working in a constructive fashion.