Tesla reported record deliveries in the fourth quarter, boosted by increased demand for electric vehicles.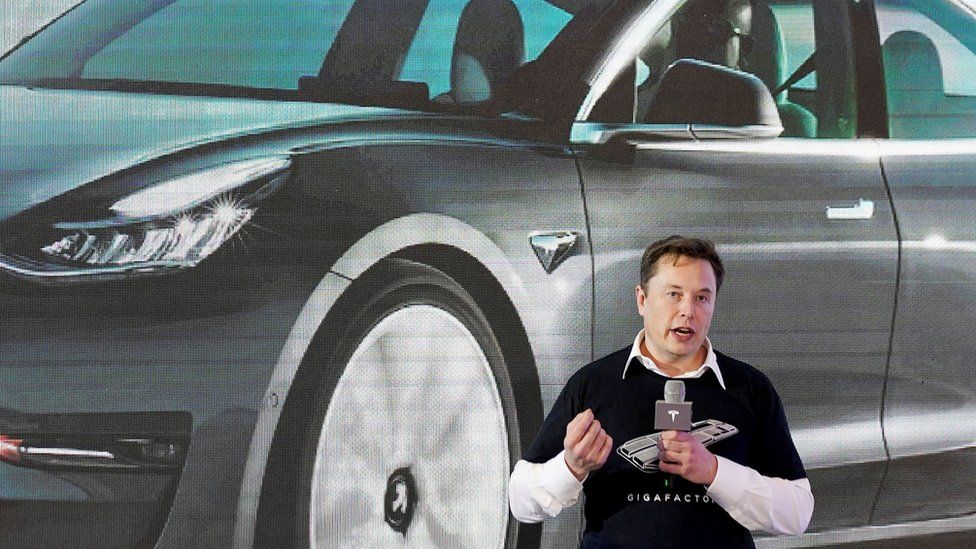 But its shares fell in after-hours trading after profit fell short of analyst expectations.
While many car firms were hit hard in 2020 by the coronavirus pandemic, Tesla bucked the trend.
Its shares surged nearly 700% over the year, making it the world's most valuable carmaker.
Governments around the world have been "setting tougher targets for switching to electric vehicles", helping to increase interest in Tesla, said Rebecca Crook, chief growth officer at digital agency Somo.
"Tesla had an incredibly successful 2020, joining the likes of Amazon as the unofficial 'winners' of a turbulent year," she said.
"It's been a challenging past 12 months for car manufacturers," she said. "It's critical for Tesla to maintain this momentum because its success sends optimism into the wider automotive industry."
Tesla, which is led by billionaire entrepreneur Elon Musk, saw steady sales and profitable quarters in 2020 as other car manufacturers were hit by the effects of the Covid-19 crisis.
But the race is on in the car industry to develop electric vehicles to meet emissions targets and challenge Tesla's market lead.
The company delivered 180,570 vehicles in the fourth quarter, a quarterly record, even though it narrowly missed its overall 2020 goal of half a million deliveries.
Net income, excluding share-based compensation payouts to Mr Musk, rose to $903m (£660m) from $386m last year, falling short of average analyst expectations for a $1.08bn quarterly profit.
This combined with a lack of a clear target for 2021 vehicle deliveries sent shares down 3% in after-hours trade. Investors had hoped for a significant increase over the company's 2020 delivery goal of half a million vehicles.
"Over a multi-year horizon, we expect to achieve 50% average annual growth in vehicle deliveries. In some years we may grow faster, which we expect to be the case in 2021," Tesla said in a statement.