A Moscow court is to decide shortly whether to turn Russian dissident Alexei Navalny's suspended sentence into an actual prison term, as police detain more pro-Navalny protesters.
Many riot police – including some on horses – have been deployed outside the court. There have been some arrests.
The anti-Putin campaigner could face up to two and a half years, in a case that has sparked nationwide protests.
Mr Navalny, 44, calls the embezzlement charge fabricated.
The Russian OVD-Info monitoring group reported that 24 people had been detained near the court early on Tuesday.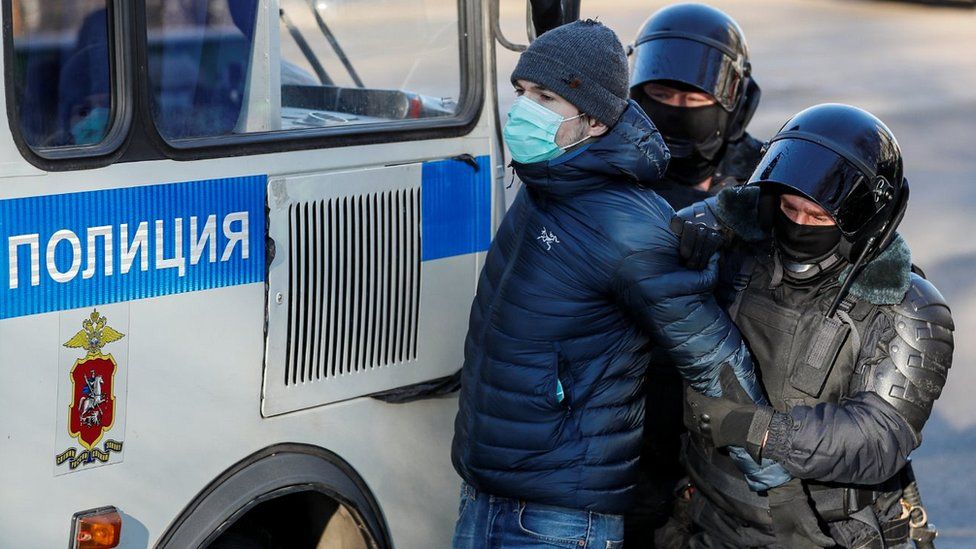 Mr Navalny's return to Russia on 17 January triggered mass protests in support of him, many of them young Russians who have only ever experienced President Vladimir Putin's rule.
He accuses Mr Putin of running an administration riddled with corruption, and recently released a YouTube video featuring an opulent Black Sea palace which, he alleged, was a Russian billionaires' gift to the president. More than 100m people have watched it.
On Saturday Arkady Rotenberg, a billionaire businessman close to Mr Putin, said he owned the palace and had bought it two years ago.
The OVD-Info group said police detained more than 5,000 people at pro-Navalny protests in 86 cities across the country on Sunday. For a second weekend, crowds defied bitter cold and a massive deployment of riot police.
OVD-Info says it is an independent Russian media project documenting police action against various groups. It gets crowdfunding in Russia and its donors include the Memorial human rights group and the European Commission.
Mr Navalny has been accused of breaking probation rules which required him to report regularly to Russian police over the embezzlement charge. His lawyers say it is absurd he is accused of breaching probation, as the authorities knew he was recovering in Berlin after a nerve agent attack that nearly killed him.
He is already serving a 30-day sentence in connection with that case, which he denounces as politically motivated.
He spent months recovering from the Novichok poisoning – an attack he blamed directly on President Putin. The Kremlin has denied any involvement, and disputes the expert conclusion that Novichok was used.
Just before the court hearing began, Mr Navalny praised his wife Yulia, who is attending in court. She was fined 20,000 roubles (£190; $260) on Monday for having joined the pro-Navalny protesters at an "unauthorised" rally.
"They said that you had seriously violated public order and were a bad girl. I'm proud of you," Mr Navalny said, quoted by Reuters news agency.
In recent days police have arrested many of Mr Navalny's top aides, who assist him in his Anti-Corruption Network (FBK).