The Republic of Ireland is to continue at its highest level of Covid-19 lockdown restrictions until at least 5 April.
The widely expected decision to maintain Level Five was taken at a cabinet meeting on Tuesday.
But primary schools will re-open on Monday for the four young youngest ages groups, the equivalent of primaries one to four.
Final year secondary students will also return then.
Other pupils and students will resume their schooling in a phased manner over the coming weeks along with pre-school childcare.
On Tuesday, 45 further coronavirus-related deaths were reported, four of them in January, taking the country's total to 4,181.
There have been 216,300 positive cases identified after an additional 575 were identified.
The Irish government has decided to take a cautious approach to easing its lockdown, arguing that its aim is the long-term suppression of the virus.
Its vaccination programme is several weeks behind Northern Ireland's and has been hampered by supply issues and the relatively late authorisation of the AstraZeneca vaccine by the European Medicines Agency.
But the Republic of Ireland is near the top of the EU league in vaccinating people, once the injections arrive in the state.
While around a third of the population north of the border has had its first injection, just over 4% in the Republic have got their jab, although slightly more people south of the border have had their second dose.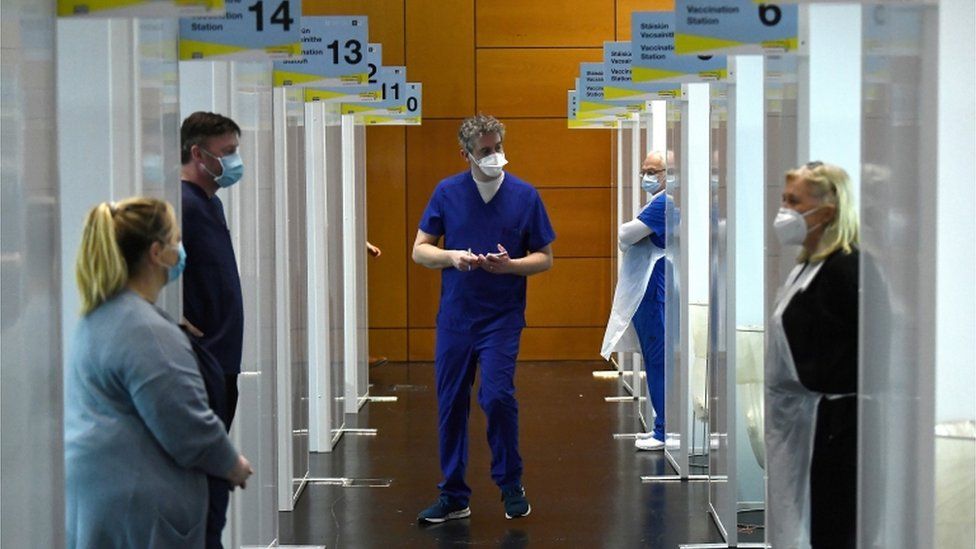 Taoiseach (Irish Prime Minister) Micheál Martin said it was "critically important" that people do not let down their guard, but he acknowledged the country was "physically and mentally exhausted" by restrictions.
"Essentially, to open up our country safely, we need to keep the numbers of new infections low and accelerate the vaccination programme in line with improving supply," he explained.
Addressing the nation on Tuesday, he said by the end of April more than 40% of people over 18 will have had a first vaccine dose and up to 82% by the end of June.
Mr Martin said non-Covid health and social care services would resume "over the coming weeks" and there would be a review ahead of 5 April.
By this date, the government will decide either to continue with the lockdown or ease restrictions for industries such as construction.
Last week, Mr Martin suggested in a newspaper the current restrictions could last until the beginning of May.
With more than 90% of current Covid cases linked to the highly-transmissible UK variant the government has decided on caution.
Last weekend, the first three cases of the Brazilian variant were recorded.
Eleven cases of the South African variant were reported at the start of January, but none since then.
By Shane Harrison
BBC News