The US has agreed to suspend tariffs on UK goods including single malt whiskies that were imposed in retaliation over subsidies to the aircraft maker Airbus.
Tariffs will also be lifted on UK exports such as cheese, cashmere and machinery.
Washington said the tariffs would be suspended for four months.
On 1 January, the UK dropped its own tariffs on some US goods put in place over a related dispute about US subsidies to Boeing.
'Sigh of relief'
The Scotch Whisky Association called the suspension "fabulous news".
Boss Karen Betts said: "The tariff on single malt Scotch whisky exports to the US has been doing real damage to Scotch whisky in the 16 months it has been in place, with exports to the US falling by 35%, costing companies over half a billion pounds.
"So today, everyone in our industry – from small companies to large – is breathing a sigh of relief."
However, she said the UK and US would still need to negotiate a long-term settlement to the aerospace dispute.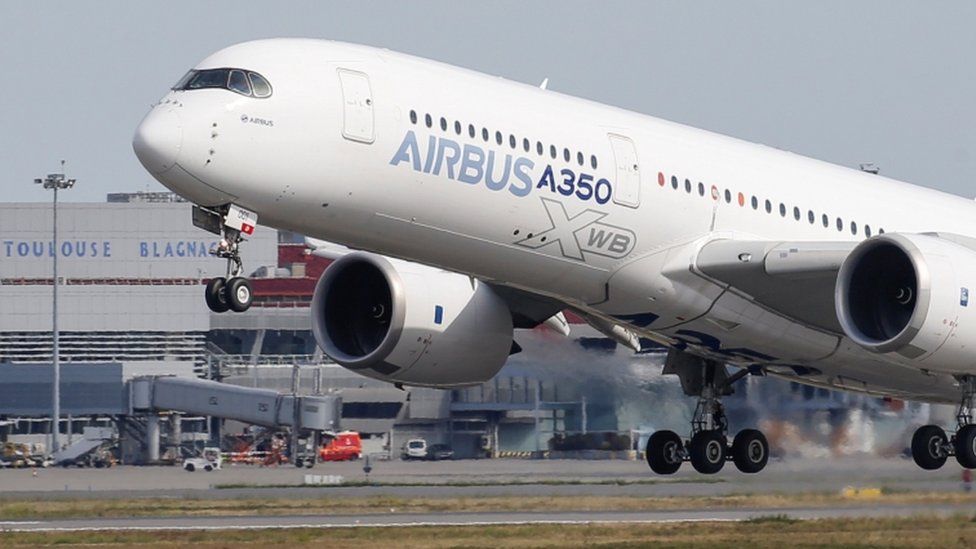 For more than a decade, the EU and US accused each other of propping up their home aviation markets with tax breaks, research grants and other aid.
But tensions flared under former US president Donald Trump, who made imposing new tariffs a central part of his trade policy with both rivals and allies alike.
In 2019, the US put tariffs on £7.5bn of EU goods, including UK products such as Scotch whisky.
Then last November, the EU moved ahead with a plan to hit $4bn (£3bn) of American goods with tariffs as punishment for US subsidies for Boeing.
In a joint statement, the UK and the US said that the suspension would "ease the burden on industry and take a bold, joint step towards resolving the longest running disputes at the World Trade Organization".
The two countries added that it would also "allow time to focus on negotiating a balanced settlement to the disputes, and begin seriously addressing the challenges posed by new entrants to the civil aviation market from non-market economies, such as China".
Action in the long running dispute began in 2004, when the US filed a case at the World Trade Organization challenging European loans to help Airbus develop aircraft, and stopped a 1992 agreement covering government support for the two top aircraft manufacturers.