The Oxford-AstraZeneca Covid-19 vaccine has been recommended for people aged over 70 in the Republic of Ireland.
In fresh advice, the country's National Immunisation Advisory Committee (NIAC) said there should not be a delay in its use, RTÉ reported.
The Pfizer and Moderna jabs had previously been approved for over-70s.
About 100,000 people in this age group have been vaccinated in the country, with 500,000 yet to receive one.
In its previous advice on 2 February, NIAC recommended the AstraZeneca vaccine only be administered to people aged under-65 amid concerns about the available data on its efficacy for older age groups.
Following this, Ireland's Chief Medical Officer Dr Tony Holohan recommended that it not be used for people aged over 70.
A number of other EU countries, such as France and Germany, also limited its use, while France's President Emmanuel Macron claimed the vaccine was "quasi-ineffective" for over-65s.
In March, both countries revised their policies.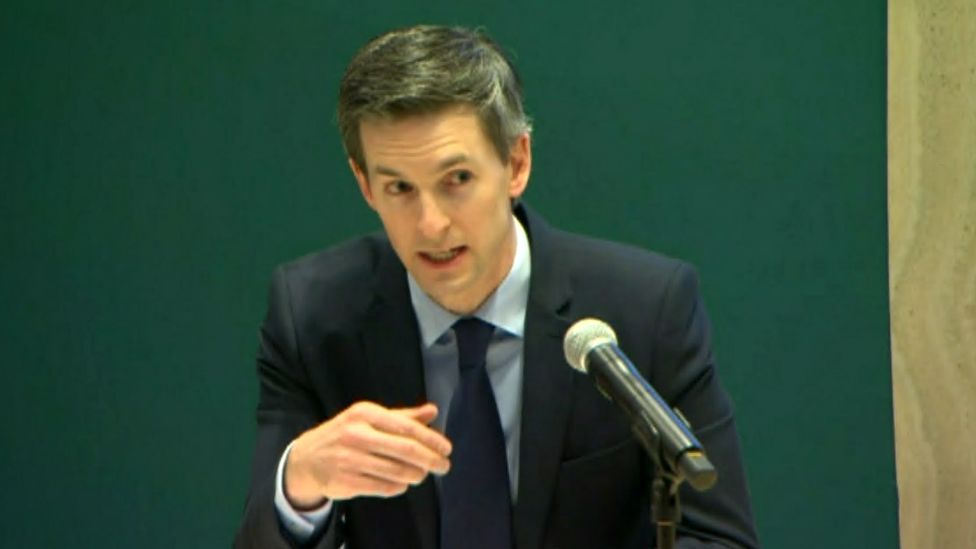 The EU drugs regulator had approved the AstraZeneca vaccine for all age groups, however, it was up to each member state to set its own roll-out policy.
RTÉ said Ireland's Deputy Chief Medical Officer Dr Ronan Glynn is expected to report the latest NIAC recommendation to government shortly.
Supply criticism
It follows a claim by the European Council President Charles Michel who accused the UK of imposing an "outright ban" on the export of coronavirus vaccines.
He said it applied to all vaccines and components produced in the UK.
UK Foreign Secretary Dominic Raab responded that the claim was "completely false".
The Irish government has also been critical of the number of AstraZeneca vaccines delivered to the bloc.
On Thursday, Tánaiste (Irish deputy prime minister) Leo Varadkar said the company's explanations "are not satisfactory" and other providers had honoured their commitments "give or take a few glitches".