US president-elect Joe Biden's choice for treasury secretary has urged Congress to approve trillions more in pandemic relief and economic stimulus.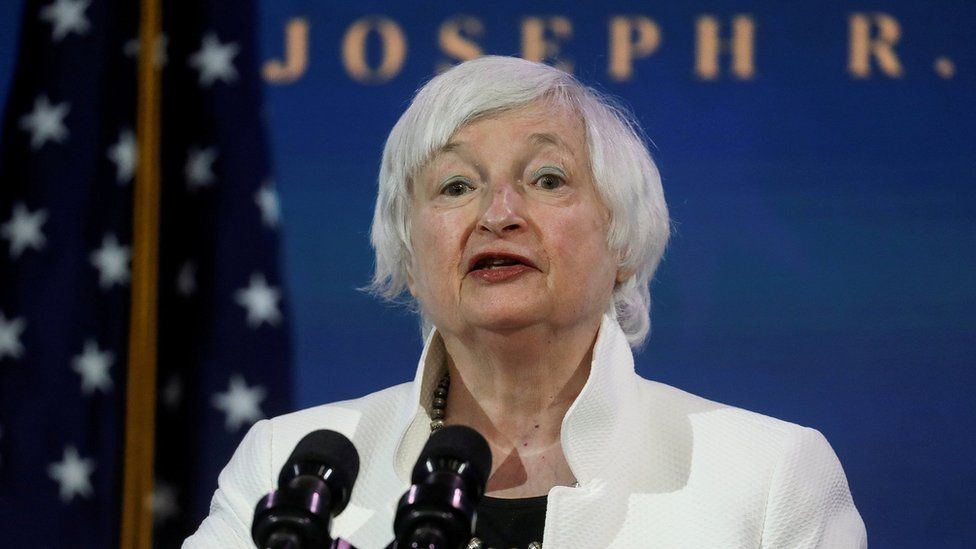 At her confirmation hearing, Janet Yellen said lawmakers should "act big" without worrying about national debt.
Republicans warned the former Federal Reserve head this was not the time for "a laundry list" of liberal reforms.
But Ms Yellen pushed back against senators at the hearing who warned her against raising taxes.
Ms Yellen's appointment is expected to be approved, making her America's first female treasury secretary.
She will enter the position as the US struggles to rebound economically from the hit caused by the coronavirus pandemic.
Employers cut jobs in December, ending a string of job gains. Retail sales have dropped in recent months, while jobless claims rise.
"Without further action, we risk a longer, more painful recession now and longer term scarring of the economy later," Ms Yellen said.
'Focus efforts on pandemic relief'
Both Republicans and Democrats have indicated they will approve Ms Yellen's nomination. Democrats said they hoped she could be formally confirmed as soon as Thursday.
But Republican Senator Chuck Grassley provided an early glimpse of the stiff resistance the Biden administration is likely to face as it presses for emergency pandemic relief, as well as a second, larger package of spending focused on infrastructure, climate friendly jobs and other priorities.
"With the trillions already in the pipeline and close to $1tn in relief enacted just a few years ago, it is very important to focus efforts on the pandemic relief," Mr Grassley said.
"Now is not the time to enact a laundry list of liberal structural economic reforms."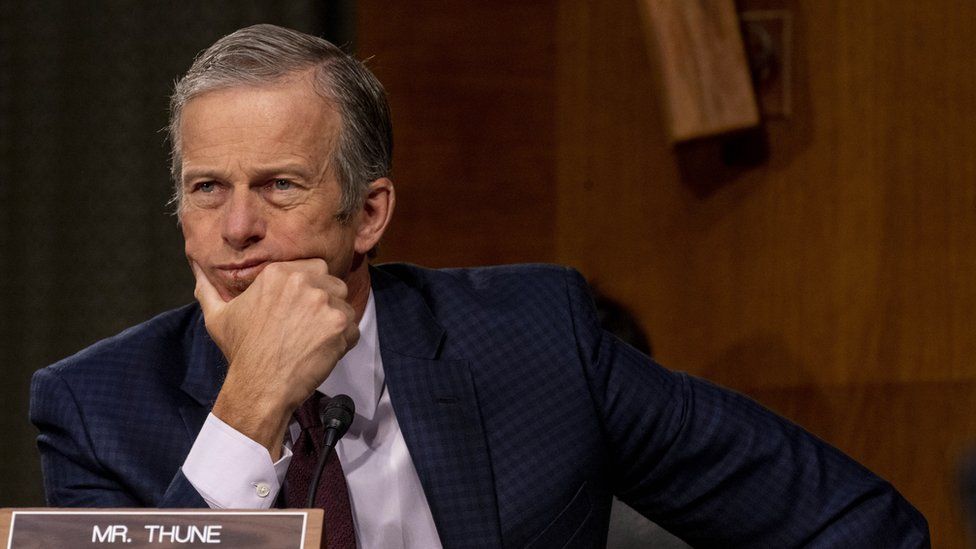 Republicans pressed Ms Yellen on proposals to raise taxes on corporations and the wealthy, more than double the national minimum wage to $15 per hour and distribute $1,400 stimulus payments to most families, which they said did not sufficiently target those in need.
Ms Yellen said many families that have seen incomes drop are not reached by jobless programmes and that plans to raise taxes must be seen in the context of financing bigger investments necessary to make the US economy competitive.
"The focus now is not on tax increases. It is on programmes to help us get through the pandemic," she said.
She added that she hoped to see countries come together via the Organisation for Economic Cooperation and Development (OECD) to forge an agreement on how to tax multinational companies, making it easier for the US to raise corporate rates.
"We have much greater leverage to keep our American firms competitive if we avoid a global race to the bottom," she said.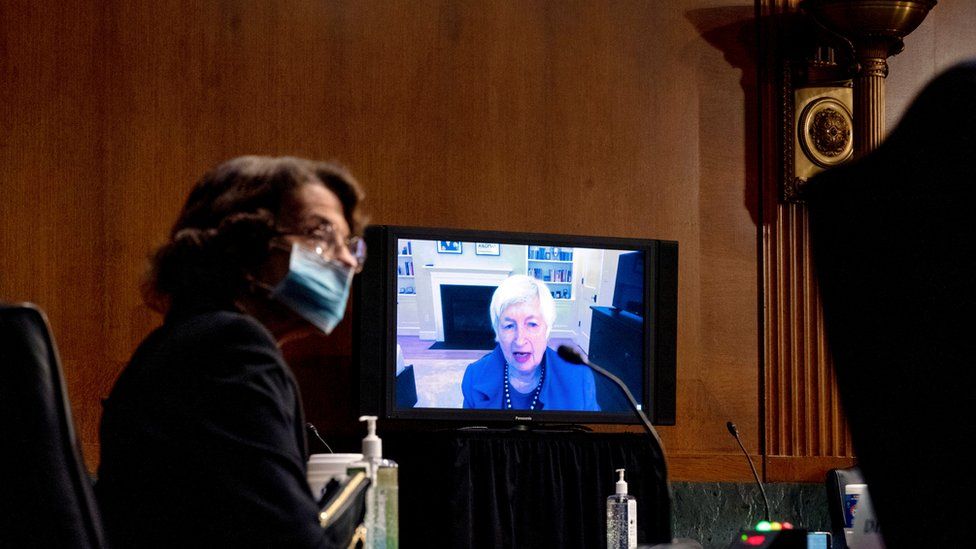 Ms Yellen also addressed concerns about the impact of further spending on American borrowing.
"Neither the president-elect nor I proposed this relief package without an appreciation of the country's debt burden but right now, with interest rates at historic lows, the smartest thing we can do is act big," she said.
"In the longer run, I believe the benefits will far outweigh the costs, especially if we care about helping people who have been struggling for a long time."
What Ms Yellen said about global issues
China: Ms Yellen called China America's "most important strategic competitor" and said the Biden administration was prepared to use a "full array of tools" to address its "abusive, illegal and unfair practices".
Beijing's policies in Xinjiang: Ms Yellen said China was "guilty of tremendous human rights abuses" in the region, which is home to the Uighur minority. However, she steered clear of using the word genocide.
Cryptocurrencies: She said there was a need for more regulation. "Many are used, at least in a transactions sense, mainly in illicit finance."
Currency manipulation: She said the Biden administration would oppose any currency manipulation aimed at gaining a trade advantage.